SRINIVASA SASTRI:
THE MAN AND HIS MESSAGE
S. NARAYANASWAMY
<![if !vml]>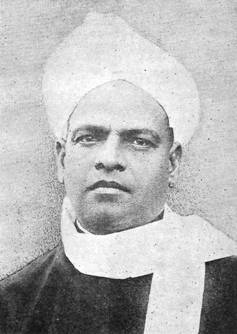 <![endif]>
Rt. Hon. V. S. Srinivasa Sastri
The image of a person that passed away twenty-four years ago can become penumbral and somewhat eroded through the overlay of countless new memories and emotional experience that pile up in troublous times, such as we are destined to live in. Happily, the image of Srinivasa Sastri is still enshrined in my heart, with a sharpness of outline and a magical ever-green quality that seem to make the passage of time almost an irrelevance. I have little doubt that the experience of others who knew him just as well, is no less remarkable. This is perhaps because Srinivasa Sastri stood for values, attitudes and a respect for human personality that can never become obsolete. It is correct to admit that the mercurial changes which occur in the affairs of developing countries like India and the unexpected but nevertheless powerful currents, which discontent with the current pace and channels of progress generates among the unhelped majority of the people, will temporarily cloud or steam-roll the ideas and the approaches of people like Sastri. But when the intoxications of the moment of political importunity or of collective frenzy disappear, the rernorseful hang-over invariably brings the exhortations of men like Sastri into uncanny focus.
Srinivasa Sastri was born on 22nd September 1869 in the obscure village of Valangaiman in Tanjore District–the heart of Tamilnad. He came of a family of orthodox religious preceptors held in high esteem, as men who sought few of the world's goods besides learning and its culture. Sastri, despite his great educational attainments and his entry into the larger world of political and international opportunities, held worldly possessions as of little consequence. This perhaps helped him to take the vow of abstinence from property-holding, demanded by the Servants of India Society, without a pang. His way of life, while being quite different in form from the traditional, was in moral substance in full accord with a tradition that called for an amalgam of copious erudition and personal austerity if not dire poverty in matters of personal possessions!
Sastri had his schooling in the neighbouring town of Kumbakonam at its renowned Native High School. He went over to the Government College of that town for his university education, in conditions of penury almost incomprehensible to the modern community of tight-pant-wearing and transistor-carrying college students. That he imbibed cold rice twice a day; that he had to read most of the books he needed in the College Library, for the reason that outright purchase of the books needed was beyond him; that he could not afford even the old-time kerosene light to do his home work, none of these prevented this forbearing undergraduate, from bringing honours to his college by passing his B. A. Degree Examination first in the then unabridged Presidency of Madras, with high distinction in two subjects. Sastriar never spoke except with moisture in his eyes about his professors and principal.
He was proud of his first assignment in life as School Master in the Municipal High School, Mayuram. Sastri was later lecturer in the Municipal College, Salem, and teacher in the Pachaiyappa's High School, Madras, which led him on to the last office of profit he ever held–headmastership of the Hindu High School, Triplicane, which office he held with the same competence and distinction as Dr. Arnold held at the Rugby School.
Sastri's life as a teacher and professor was not without its small frustrations. On almost every occasion, these came in the wake of his exercising his unique talents. He pleaded and practiced, to the extent his superiors permitted, closer communication between the teacher and the taught by means of extra-curricular exchange of ideas. He was keenly conscious of the inadequacies of the hours of humdrum pedagogy, that were largely dissipated in lifeless text-book reading and notes-writing, in the matter of moulding adolescent minds and hearts in wholesome ways. But at least one ferule-happy headmaster had different ideas and told Sastri that he would have none of what he believed to new-fangled nonsense. At Salem, his relations with an European principal became rather frigid, because he had the temerity in the Victorian era of unchallenged British supremacy, to correct the Principal's somewhat rickety idiom in a college circular. Thereafter, Sastri was not permitted to handle English classes in the college. Alas! what a strange deprivation for the innocent students.
Sastri relinquished his headmastership of the Hindu High School in 1907, to join the Servants of India Society, then recently founded by Gopala Krishna Gokhale. The message of self-effacement and unobtrusive public service after a strenuous five-year journeymanship, during which period the candidate was to engage in a diligent study of public questions made to Sastri's soul and intellect an irresistible appeal. Sastri took the plunge, though curiously he was not by any means the familiar proto-type of social worker in mental make-up.
His intellectual eminence, his deep understanding of intricate Political questions, his lucid thinking and capacity for handling the written and spoken word with breath-taking facility, fitted him for a loftier role than that of a social do-gooder. Very soon his services were availed by the Indian National Congress and by Dr. Annie Besant for the home Rule Movement of 1919. The Montagu Chemsford Reforms proved the signal for Sastri stepping into more active public life. The much-abused diarchic system introduced by Montford Reforms and the cleavage of opinion among the Nationalist leaders as to the usefulness of the proposals, resulted in the emergence of the two distinct groups, the Liberals as they were called who accepted the Reforms for their worth and the Congressmen who rejected the Reforms in toto.
Sastri believed very sincerely that E. S. Montagu, the then Secretary of State for India, was a genuine friend of this country and that his scheme of Responsible Government should be given a fair trial. But Sastri was loudly criticised as an agent of the British Governrnent and as being unpatriotic.
Sastri had imbibed from Gokhale his lessons on how to conduct oneself in Political adversity, how to react to the voice of cavil and calumny with patience and gentleness. Gokhale believed that the whirlgig of time proved who was right and who was not, and Sastri always remernbered Gokhale's exhortations in hours of personal anguish caused by vitriolic press attacks on hirn. He believed with the poet that "the Mills of God grind slowly but they grind exceedingly small."
Sastri's trips abroad, his participation in international conferences, the clarity and restraint of his utterances, the elegance of well-chosen phrases, the Manifest fairness of his appreciation of opponent's point of view and his deep insight into human nature, have all been testified to handsomely by contemporaries in diverse political camps. His speech at the League of Nations Assembly in Geneva was the subject of lyrical reporting, one of the columnists ending up with the declaration that "the East has spoken in accents unsuspected by the West." A "London Times" report of his speech at the reception held by the Lord Mayor of London, on the occasion of the conferment of the Freedom of London City on Sastri, brought his old Professor Bilderbeck, who taught him in the Kumbakonam College, from the obscurity and repose of his Yorkshire home to the City of London, which culminated in a tearful meeting after a forty-year interval. His speech on the Rowlatt Bill in the Delhi Assembly, his appeals at the Round Table Conference in London and the one made on the occasion of the failure of his Kenya Mission in London, reveal the deep springs of his patriotism and his powerful reaction to unjust administrative acts. Some people, who knew Sastri, said he was a cold, unemotional person. Nothing was farther from the truth. He was a deeply emotional man, indeed unduly sensitive to even small good turns done to him. He was a man of strong attachments. Years of sedulous training and study had built into him a philosophical detachment and a scrupulous objectivity of assessment of men and situations, that refused to be drowned by the emotional effervescence of the moment, nor catch him making random or reckless observations, which the white heat of political passion often betrayed people into. His personal warmth and his frequent expressions of gratitude contained in letters and talks, were conclusive refutation of this somewhat superficial impression about Sastri.
Sastri in his time was regarded as among two or three Indians who had expert knowledge of Indians abroad. Little wonder both Lord Irwin and Mahatma Gandhi were agreed that Sastri should be appointed Agent-General of India in South Africa–in implementation of the Cape Town Agreement. Sastri held this assignment with conspicuous dignity and understanding in 1927-29. The Sastri College in Durban is an appropriate and abiding memorial to one, whose first love was Education–which tempted him later in life to accept the Vice-Chancellorship of the Annamalai University in his own home State.
His speeches and writings spread over more than quarter of a century, cover a wide spectrum of themes ranging from consumer's co-operation to Valmiki Ramayana, from citizen's rights and duties spelt out in his Kamala Lectures, to picturesque reminiscences of Gokhale and Pherozeshah Mehta. The solemnity of his utterances was punctuated by humorous sallies and occasional irony–that brought out a deep impish streak, which perhaps made the tribulations of his earlier years endurable. Sastri had more than a personality, in that he had a presence that radiated charm, calm and a solidity that India has learnt to associate with its sages. In contemporary times, we have associated this phenomenon only with Mahatma Gandhi. This bond of friendship between Gandhiji and Sastri, which started in 1914, lasted till the very end of Sastri's life in 1946. Early in 1946, Gandhiji visited him at the General Hospital in Madras twice during his South Indian tour (incidentally, it was Gandhiji's last visit to the South) when Sastri was lying ill, but not too ill to be able to have warm personal exchanges, punctuated by slokas from Valmiki Ramayana.
            Sastri stood for morals and manners in public life–as in private life. He pleaded for restraint and forbearance in dealing with provocative situations. He asked for charity in personal judgment and for a full understanding of human frailties that were frequently projected into administrative acts. He lived through bitter controversies without allowing that bitterness to infect him. Personal rectitude, unselfishness, objectivity and a clear sense of direction were according to him, basic pre-requisites for successful holding of public office.
            I believe it has been worthwhile to have dwelt for a few minutes on the day of Sastri's Birth Centenary on all that the great preceptor-­statesman symbolized and stood for, towering amidst tempests of misunderstanding and political dissent. We, who often complain of the disturbing gulf between our lofty precepts and not so lofty performances in public life, can recollect with some upliftment of the heart, that here was a man, who did not believe in preaching what he did not practise; and who was in deadly earnest about what he said, what time his political achievements were perhaps less spectacular than those of several contemporary public men.
            Men like Sastri are needed and will be born out of coming generations, who will light the candles and dispel the gloom that gathers time and again in the corridors of our political edifice. They are the salt of the earth, because they have the courage and the moral earnestness to be in a minority and are ready to throwaway the comforts of good living, careers and opportunities, like old tubes of tooth paste. Let us pray for the emergence of more
such men and women, who will follow the ennobling example of a life sagaciously and truthfully lived.
(By the kind courtesy of A. I. R.)
<![if !supportEmptyParas]> <![endif]>